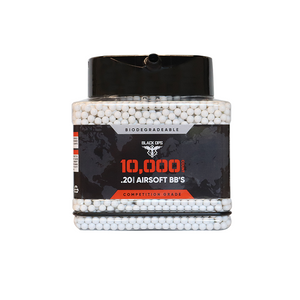 Black Ops .20g Biodegradable Airsoft BBs - 10,000 Count
Accessory
.20 g Biodegradable Triple Polished Competition Grade 6MM Airsoft BBs - 10,000 Count
Description
Biodegradable airsoft BBs from Black Ops have been rigorously tested in multiple variations of airsoft guns and by experienced players in varied climates and situations. Black ops Airsoft BBs have been engineered to eliminate bubbles and flaws and have a triple polished finish to ensure flight consistency and eliminate breaks inside the gun.
Each package of BBs comes in a re-sealable plastic container so that you can store them air-tight and significantly increase the life span and quality of the BBs. Black Ops Airsoft BBs have proven consistency and accuracy no matter the battlefield and no matter the weapon. Shooting with Black Ops is shooting with confidence.
UPGRADE YOUR RANGE, POWER, AND ACCURACY with heavier .20g match grade airsoft BBs that will take your AEG or Sniper Rifle to the next level.
WORRY ABOUT THE GAME, NOT YOUR AMMO, Black Ops USA's competition grade biodegradable BBs are absolutely consistent and triple polished for reliability and accuracy.
EASILY VISIBLE WITHOUT DISTRACTING, the Shadow Grey color pattern makes these high quality airsoft BBs easily visible without jarring neon colors like bright pink.
LONG LIFESPAN STABLE FORMULA engineered to eliminate bubbles and flaws, and will not begin to degrade until long term exposure to water and sun.
PLAY AT ANY FIELD WITH APPROVED BIODEGRADABLE BBs perfect for indoor or outdoor play.
Shipping & Returns
SHIPPING POLICY (READ FULL SHIPPING POLICY HERE)
FREE ground shipping on any order $50 and up shipped to the contiguous United States.
Barra Airguns ships only to consumers that reside in the United States with a physical address (no PO boxes).  Please email help@barraairguns.com for inquiries about international shipping. 
In-stock merchandise will normally arrive in 3-6 business days (AK & HI add 7 days). Holidays may delay shipping. Shipping charges depend on destination and item weight.
It is your responsibility to know the laws in your state, county, and city and to fully comply with them.   Barra Airguns does not authorize that you may legally purchase, possess, carry or utilize air rifles, air pistols, pellets, or any other items, which you may order from Barra Airguns or one of its websites. 
RETURN POLICY (READ FULL RETURN POLICY HERE) 
If you are not satisfied with the original condition and/or performance of the item(s) purchased from a website of Barra Airguns you may return the item within 30 days from ship date for a refund or replacement. To qualify for refund or replacement, items must be returned in their original packaging with all tags and stickers attached. Once we approve your request, return unused items, in the original box with all accessories, warranty cards, owner's manuals, etc. within 30 days for an exchange or refund. You will need to put your boxed item in a separate box to ship so that the packaging it stays in mint condition. We will charge a restocking fee for any damaged packaging. 
Ship returns to Barra Airguns via UPS, FedEx or USPS Priority Mail for tracking/confirmation purposes. Use this address: Barra Airguns. 11427 N Highway 59, Gravette, AR 72736
Returns without the complete original packaging may not be accepted. 
Shipping and handling is non-refundable except in the case of defective merchandise shipped within the United States. Shipping for returned merchandise should be pre-paid. 
Please allow 2-4 weeks from the date we receive the return for credit or refund. We assume no liability for loss or damage of returned packages. We recommend you purchase insurance from your shipper. Returning merchandise nullifies your ability to take advantage of any promotions or rebates that may be associated with it.