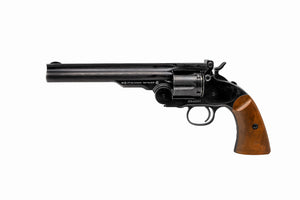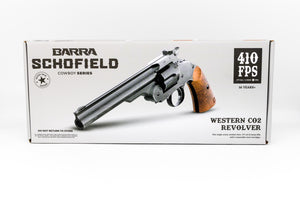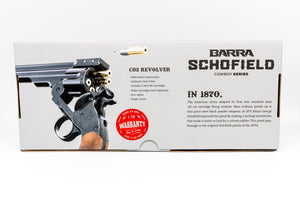 The Schofield 7 Inch Variant: Aged
BB Pistol
Color: Aged
Description
The Schofield is probably what you envision when you think of a Wild West shootout. Shooting with this beautiful piece of frontier history is your chance to unleash your inner outlaw or sheriff depending on your team preference (no judgement either way). Perfect on the range, for firearm proficiency and training, or backyard plinking, the Schofield No.3 Vintage Revolver from Barra Airguns is the right pistol at the right price. 
OPERATION Not only does it look the part, but it shoots like a real 6-shooter too! Smooth single action, CO2 power, and an authentic 6-shot cylinder makes shooting the Schofield No.3 Vintage Revolver a joy. Loading and reloading BBs is a breeze with the included metal cartridges and top break design. Now head on out and practice your quick draw.  
MATERIALS A revolver should have some weight and balance to it, and the full-metal Schofield is as real as it gets. As rugged as it looks, the accurate and powerful Schofield comes with a 7" barrel and up to 410fps from 12g CO2 cartridges.  
STYLE Part of our Cowboy Series, the Barra Airguns Schofield No.3 Vintage Revolver is all about attention to detail. The precision craftsmanship is a faithful replica of the classic Smith & Wesson No.3 Schofield revolver from 1875. It feels heavy and balanced in your hand and is now available in authentic-looking finishes, backed by our 1-year warranty. 
Specifications
| | |
| --- | --- |
| CALIBER | .177 |
| POWERPLANT | CO2 |
| ACTION | Single |
| LOUDNESS | Level 2 |
| MAX VELOCITY | 410 |
| SHOT CAPACITY | 6 |
| WEIGHT | 2 lbs |
| BARREL LENGHT | 7" |
| TOTAL LENGHT | 12.8 |
| FRAME | Metal |
| BARREL | Smooth |
| SHROUDED | No |
| TRIGGER | 2.2 lbs |
| SAFETY | Manual |
| OPTIC MOUNT | None |
| RECOMMENDED USE | Plinking |
Shipping & Returns
SHIPPING POLICY (READ FULL SHIPPING POLICY HERE)
FREE ground shipping on any order $50 and up shipped to the contiguous United States.
Barra Airguns ships only to consumers that reside in the United States with a physical address (no PO boxes).  Please email help@barraairguns.com for inquiries about international shipping. 
In-stock merchandise will normally arrive in 3-6 business days (AK & HI add 7 days). Holidays may delay shipping. Shipping charges depend on destination and item weight.
It is your responsibility to know the laws in your state, county, and city and to fully comply with them.   Barra Airguns does not authorize that you may legally purchase, possess, carry or utilize air rifles, air pistols, pellets, or any other items, which you may order from Barra Airguns or one of its websites. 
RETURN POLICY (READ FULL RETURN POLICY HERE) 
If you are not satisfied with the original condition and/or performance of the item(s) purchased from a website of Barra Airguns you may return the item within 30 days from ship date for a refund or replacement. To qualify for refund or replacement, items must be returned in their original packaging with all tags and stickers attached. Once we approve your request, return unused items, in the original box with all accessories, warranty cards, owner's manuals, etc. within 30 days for an exchange or refund. You will need to put your boxed item in a separate box to ship so that the packaging it stays in mint condition. We will charge a restocking fee for any damaged packaging. 
Ship returns to Barra Airguns via UPS, FedEx or USPS Priority Mail for tracking/confirmation purposes. Use this address: Barra Airguns. 11427 N Highway 59, Gravette, AR 72736
Returns without the complete original packaging may not be accepted. 
Shipping and handling is non-refundable except in the case of defective merchandise shipped within the United States. Shipping for returned merchandise should be pre-paid. 
Please allow 2-4 weeks from the date we receive the return for credit or refund. We assume no liability for loss or damage of returned packages. We recommend you purchase insurance from your shipper. Returning merchandise nullifies your ability to take advantage of any promotions or rebates that may be associated with it.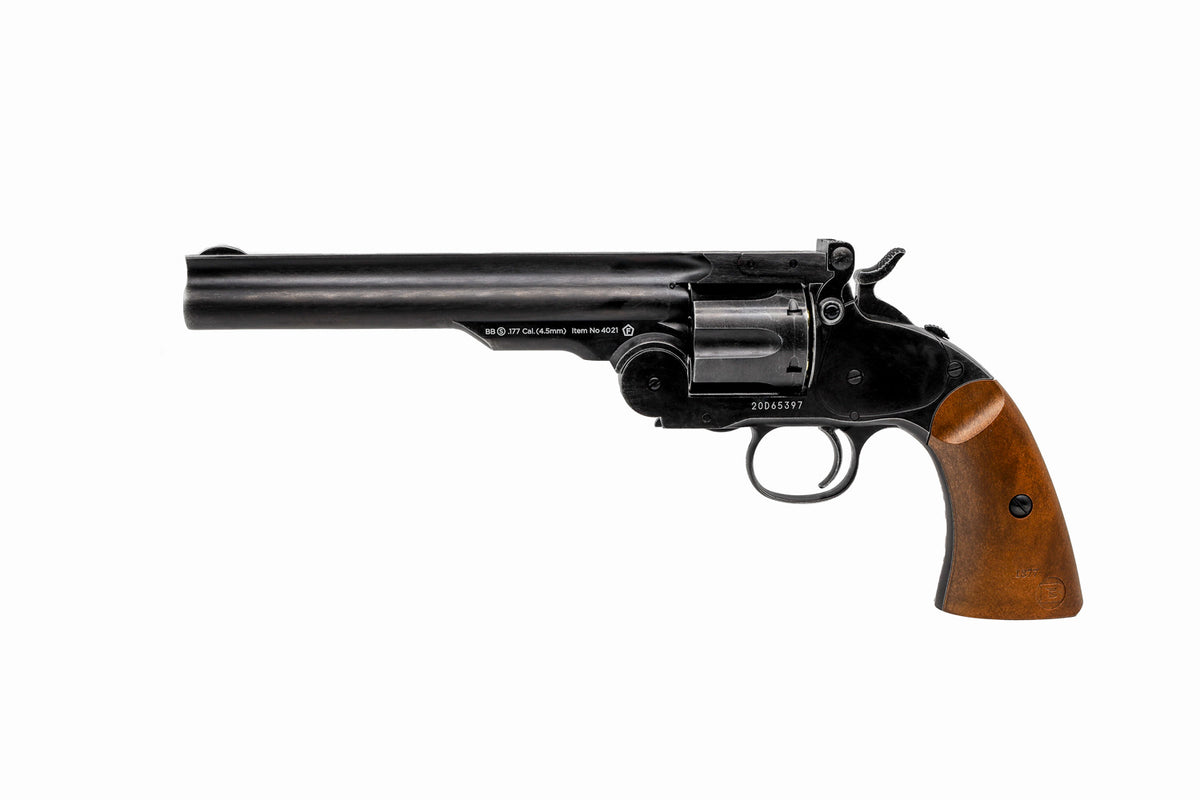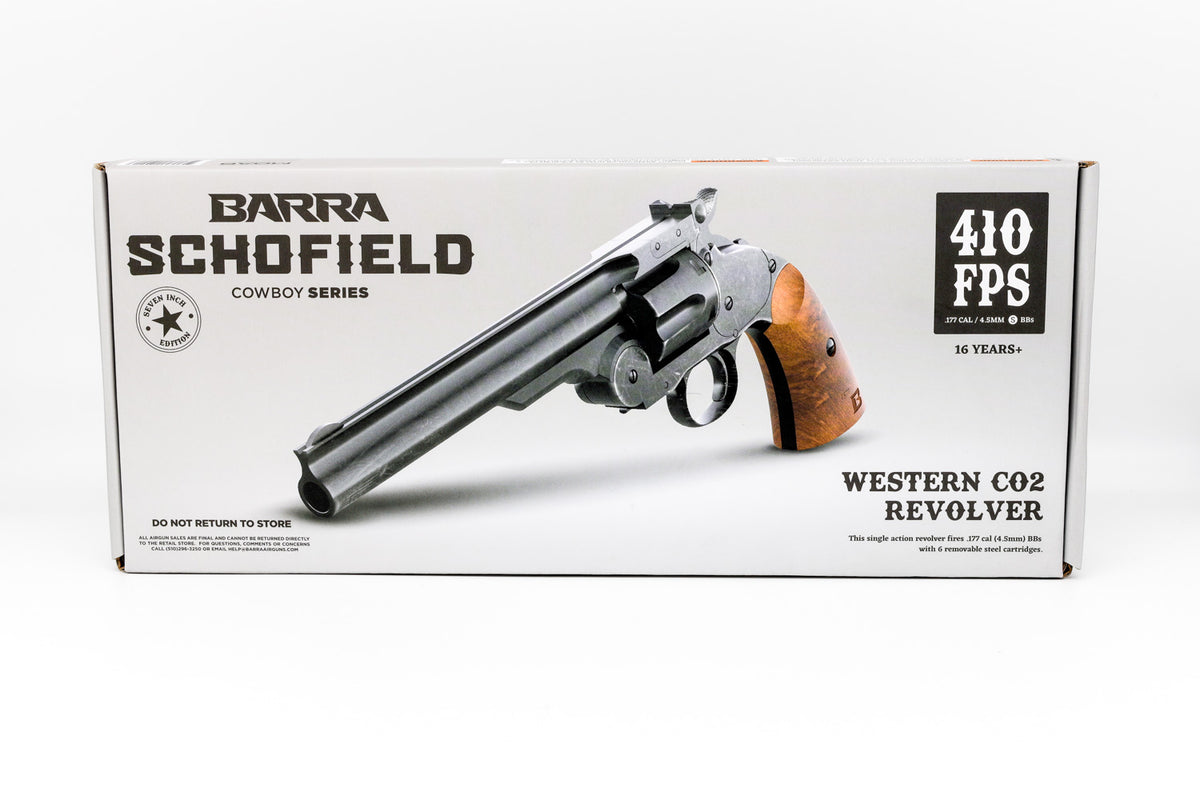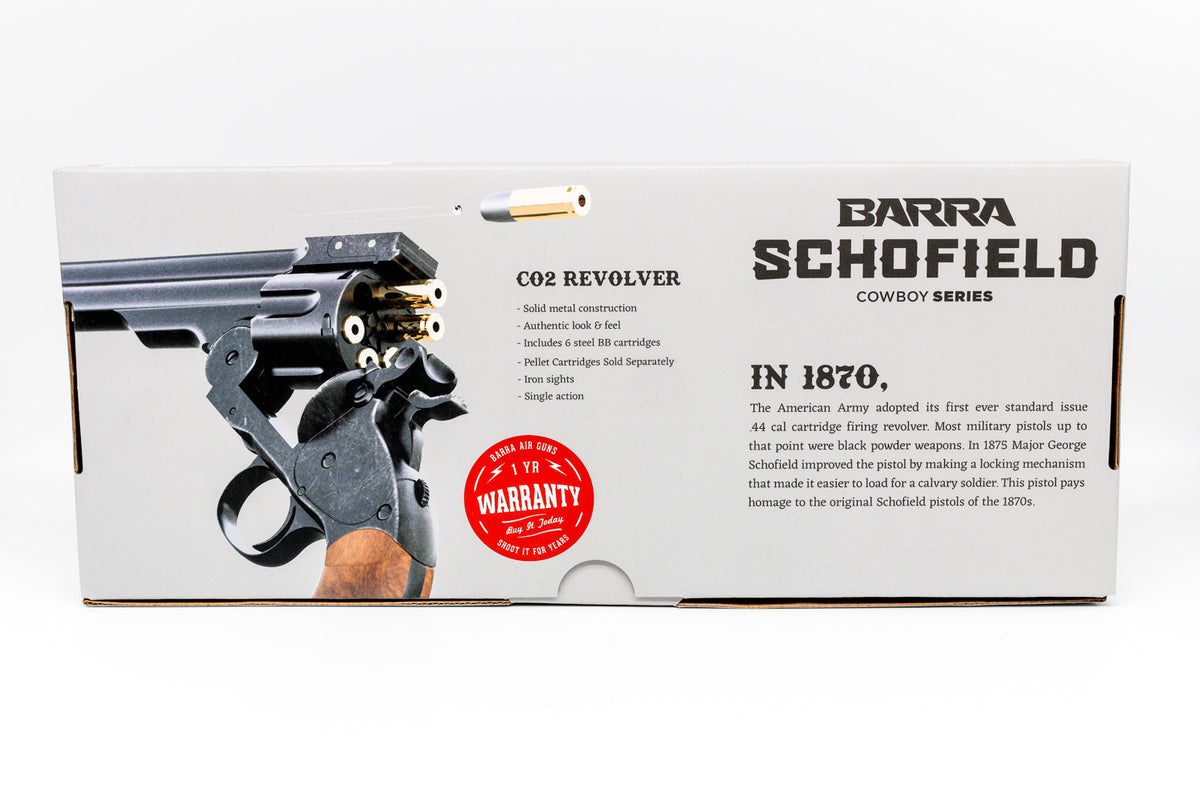 Schofield 7" Aged
The air pistol is one of the nicest reproduction revolvers I've come across. Finding a real firearm version of the Schofield revolver is difficult and unreasonably expensive so this was the next best thing for the money tight collector. The aged finish is very nice and the construction is very good. The air pistol functions well and shoots pretty accurately using regular bbs. I recently got pellet shells as well so I look forward to trying those out. The price is fair considering the level of quality and my other options were a $1000+ replica pistol with expensive ammunition. I would consider this a good buy for anyone interested in firearms history who wanted more experience than looking at photos and watching videos but doesn't daily a Bentley. It serves well as a prop and as a fun plinker in the back yard.
Straight Shooter, Smooth Action Right Out the Box
I bought this off HeroOutdoors, didn't realize I could get it from here, but that's alright. I live up in rural Canada and this is my go-to for plinking out on Crown land. Its got enough weight that I can tell I'm holding it, the nickel finish looks GORGEOUS in the sun, and the sound of the action is extremely satisfying. I'm a huge fan of the BB cartridges, just got to make sure I don't lose them in a crevice somewhere when popping them out. As for actual performance, it shoots straight, it shoots as fast as advertised, and it plays nicely with my black diamond BBs.
Would handily recommend this to others.
Barra Schofield
I like that the bb gun is heavy duty, looks and feels like a real gun and it is very easy to operate. I also like the dual action feature like a real gun as well. the safety is heavy and it would be very difficult for a youngster to take it off safety.
So much fun
Looks even better in person and it's a blast to mess around with.
"Buy it today shoot it for years!"
I love it! it took a bit to get here and I'd say it was worth the wait. Its a very accurate bb gun pistol 6 rounds, cock and shoot simple and safe. No matter who you are I think you'll love this, no need to be a fan of Westerns or even guns to find this piece nice.