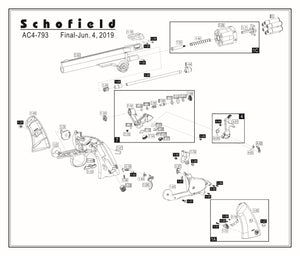 Description
Complete Schofield Seal Assembly. This assembly is universal for all Schofield CO2 models.  
Shipping & Returns
SHIPPING POLICY (READ FULL SHIPPING POLICY HERE)
FREE ground shipping on any order $50 and up shipped to the contiguous United States.
Barra Airguns ships only to consumers that reside in the United States with a physical address (no PO boxes).  Please email help@barraairguns.com for inquiries about international shipping. 
In-stock merchandise will normally arrive in 3-6 business days (AK & HI add 7 days). Holidays may delay shipping. Shipping charges depend on destination and item weight.
It is your responsibility to know the laws in your state, county, and city and to fully comply with them.   Barra Airguns does not authorize that you may legally purchase, possess, carry or utilize air rifles, air pistols, pellets, or any other items, which you may order from Barra Airguns or one of its websites. 
RETURN POLICY (READ FULL RETURN POLICY HERE) 
If you are not satisfied with the original condition and/or performance of the item(s) purchased from a website of Barra Airguns you may return the item within 30 days from ship date for a refund or replacement. To qualify for refund or replacement, items must be returned in their original packaging with all tags and stickers attached. Once we approve your request, return unused items, in the original box with all accessories, warranty cards, owner's manuals, etc. within 30 days for an exchange or refund. You will need to put your boxed item in a separate box to ship so that the packaging it stays in mint condition. We will charge a restocking fee for any damaged packaging. 
Ship returns to Barra Airguns via UPS, FedEx or USPS Priority Mail for tracking/confirmation purposes. Use this address: Barra Airguns. 11427 N Highway 59, Gravette, AR 72736
Returns without the complete original packaging may not be accepted. 
Shipping and handling is non-refundable except in the case of defective merchandise shipped within the United States. Shipping for returned merchandise should be pre-paid. 
Please allow 2-4 weeks from the date we receive the return for credit or refund. We assume no liability for loss or damage of returned packages. We recommend you purchase insurance from your shipper. Returning merchandise nullifies your ability to take advantage of any promotions or rebates that may be associated with it.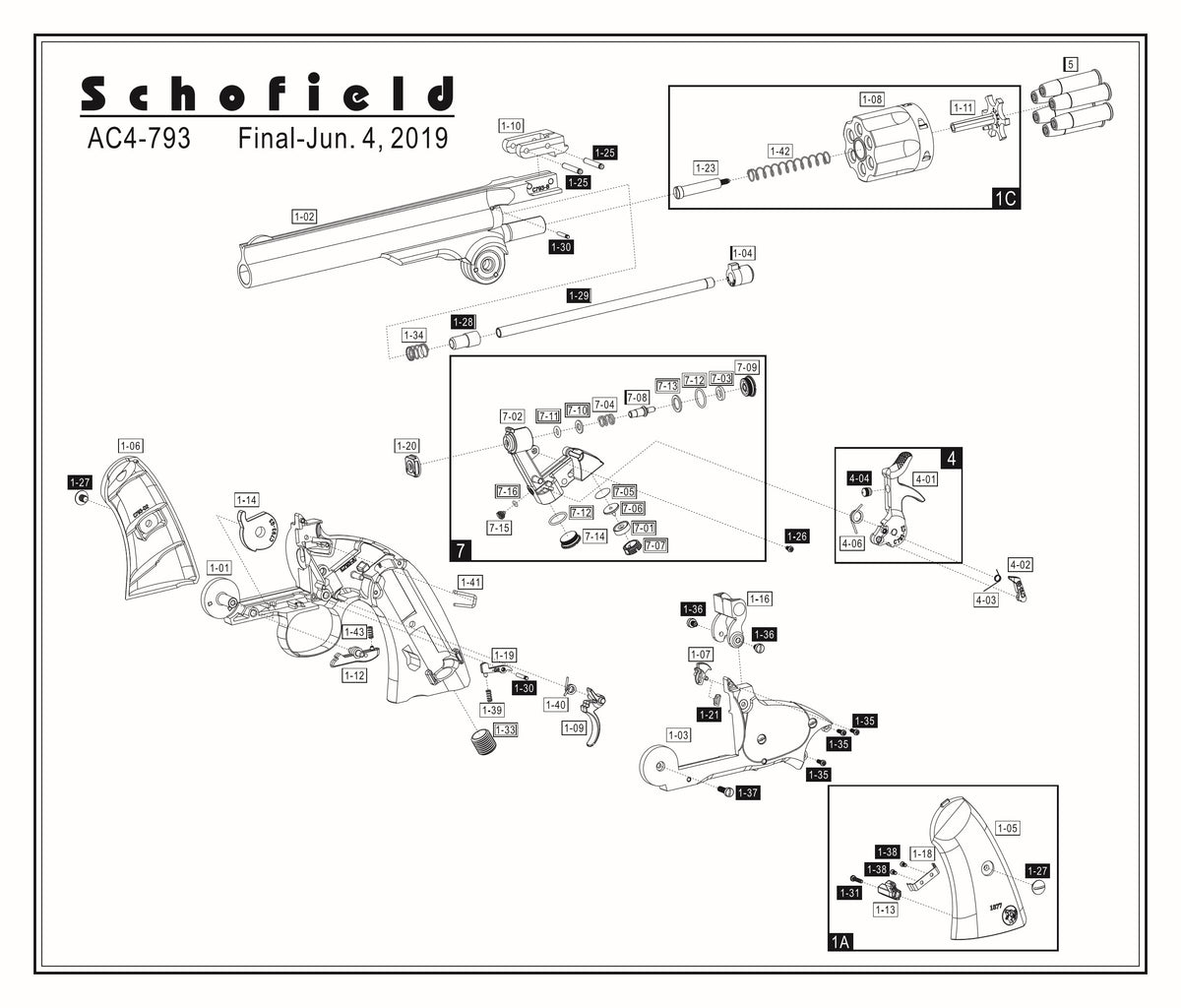 New Seal Assembly for Schofield BB Gun
I had an issue with my Schofield where I couldn't get it to fire even after installing new CO2 cartridges. I did some research online and read where I probably needed a new seal assembly. I contacted Barra and they responded quickly and told me exactly what I needed to order. The seal assembly was shipped out fast and fixed my probably (the Youtube video on how to install it was very helpful too). I'm very happy with the good communication and quick service from Barra.
Seal kit for scholfield
Dont knoy yet. Jius for when i need it. Looks fine.
Schofield No 3 seal replacement
I made the mistake of leaving a cartridge installed for several months which permanently deformed the gas seal and caused a leak. Robert in customer service told me that they were backordered on the replacement seal kits and put me on the mailing list when they were available sometime in August. As promised, that's exactly what happened, and I ordered two kits (one for a spare). They are very reasonably priced. Barra has an EXCELLENT step-by-step YouTube video on how to do this replacement yourself. I watched it all the way through one time first before doing the procedure. After that familiarization, I performed the replacement as I played the video a second time. It was a complete success, and my Schofiled is as good as new. Three takeaways from this experience: #1 Don't leave cartridges installed long term if you're not using the air gun. #2 In the replacement procedure, use a good quality small Phillips screwdriver. Those screws are small and can be easily damaged by a cheap, worn-out driver. #3 Barra's customer support is first rate! Thank you.
Rebuild kit for schofield
Simple and complete. Easy to rebuild. Not expensive.
Excellencant Service
Parts arrived in perfect shape and Condition..,Excellent customer service….5 Star Rating..