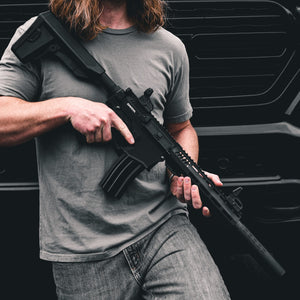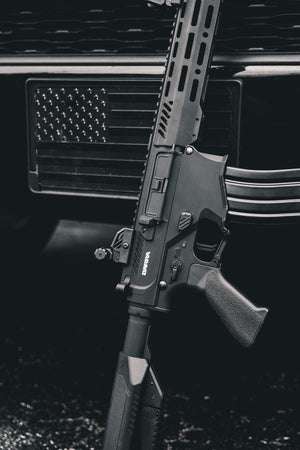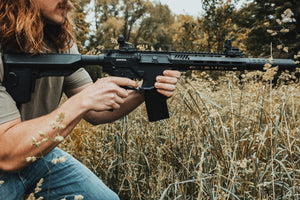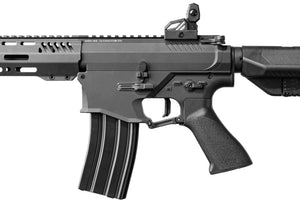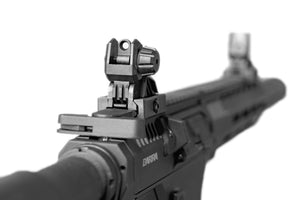 The 400E
BB Rifle
Color: Black
The Barra 400e is the world's first and only production full auto .177 BB gun powered exclusively by electricity. Featuring patent pending technology, this BB rifle is built with a CNC aluminum receiver and handguard. Highly accurate and customizable out of the box. Do not use copper plated BBs. Battery and Charger sold separately.
Description
It's time to spend your time actually shooting rather than fumbling with CO2 cartridges. The 400e is the first and only production full auto .177 BB gun powered completely by electricity. One battery charge gets you over 1000 shots. Featuring patent pending technology, the 400e can maintain velocities ranging between 380 and 410 fps. The consistent velocity and engineering of the rifle allow for high levels of accuracy for a BB gun. With rates of fire between 500-600 RPM (depending on battery C rating), it's fast enough to be fun, but slow enough to engage all your targets before needing to reload. With the included 50 round magazine, this gets you over 5 seconds on full-auto before needing a mag change. That's over 4x longer shooting than comparable fully automatic CO2 rifles.
OPERATION The 400e is powered by a widely available Lithium Polymer (LiPo) battery commonly used in high end airsoft guns or RC cars. With the ambidextrous AR-15 style selector switch, easily swap between full-auto, semi-auto, or safe modes. The battery is connected to a high RPM motor and gearbox. We made the 400e gearbox to withstand extreme force and extended firing sessions. Unlike many airguns, the 400e performs great in all types of weather with virtually no performance decline in temperatures between 32F(0C) and 90F(32C). 

MATERIALS The 400e is built like a real rifle with a full CNC aluminum receiver and handguard. Includes M-LOK® compatible accessory slots on the handguard for modular flexibility. The polymer 6 position adjustable butt stock with sloping cheek weld balances support and user comfort. Includes QD sling mount and slot for other straps.

STYLE  Designed as a modern sporting rifle with no frills and a clean frame. The 400e looks great out of the box but is still highly adaptable for you to customize and make it your own. 
ACCESSORIES Includes 1x 50-round magazine, speed loader, and flip up sights. Battery and charger are sold separately. 
BATTERY REQUIREMENTS Using a 3S (11.1V) LiPo battery with a 25-35C rating and Deans (T-Plug) connection is required. A XT60 or XT30 male to female deans connector is acceptable as long as it is a battery that meets the standards stated above. DO NOT use a battery that is below or exceeds these standards as it may damage your motor and gearbox. Using a balanced charger is recommended to safely charge and balance your battery. Please follow the instructions for charging and use found with the battery and charger that you use.
COST TO OPERATE The 400e is extremely efficient to operate and more than *100 times cheaper per shot than a full auto CO2 rifle. A 40 count CO2 pack costs about $25 and gets approximately 2,000 shots with a full auto CO2 BB rifle. A LiPo battery and balanced charger are about $30 and should get 200,000-400,000 shots with the 400e when the battery is properly maintained.
*Battery and charger are sold separately.
*Energy cost for battery usage was calculated based on
The National Average Energy
cost of 14.8 cents kWh, a 2200 mAh battery, and an 800 mA B3 charger. Energy cost for CO2 based on 60 cent cost per cylinder and 100 shots per two cylinders. 
Specifications
| | |
| --- | --- |
| CALIBER | .177 (4.5mm) |
| POWERPLANT | AEG |
| ACTION | Select Fire |
| LOUDNESS | Level 3 |
| MUZZLE ENERGY | 2 fpe |
| MAX VELOCITY | 410 fps |
| SHOT CAPACITY | Includes 50 Round Magazine |
| WEIGHT | 7.5 Lbs |
| BARREL LENGTH | 19" |
| TOTAL LENGTH | 42.25" |
| STOCK | Synthetic |
| BARREL | Smoothbore |
| TRIGGER | Flat |
| SAFETY | Manual |
| OPTIC MOUNT | Picatinny Rail |
| RECOMMENDED USE | Plinking |
| INCLUDES | Speed loader |
| FOREGRIP | Aluminum with M-LOK |
| SOUND SUPPRESSION | Faux Suppressor |
Shipping & Returns
SHIPPING POLICY (READ FULL SHIPPING POLICY HERE)
FREE ground shipping on any order $50 and up shipped to the contiguous United States.
Barra Airguns ships only to consumers that reside in the United States with a physical address (no PO boxes).  Please email help@barraairguns.com for inquiries about international shipping. 
In-stock merchandise will normally arrive in 3-6 business days (AK & HI add 7 days). Holidays may delay shipping. Shipping charges depend on destination and item weight.
It is your responsibility to know the laws in your state, county, and city and to fully comply with them.   Barra Airguns does not authorize that you may legally purchase, possess, carry or utilize air rifles, air pistols, pellets, or any other items, which you may order from Barra Airguns or one of its websites. 
RETURN POLICY (READ FULL RETURN POLICY HERE) 
If you are not satisfied with the original condition and/or performance of the item(s) purchased from a website of Barra Airguns you may return the item within 30 days from ship date for a refund or replacement. To qualify for refund or replacement, items must be returned in their original packaging with all tags and stickers attached. Once we approve your request, return unused items, in the original box with all accessories, warranty cards, owner's manuals, etc. within 30 days for an exchange or refund. You will need to put your boxed item in a separate box to ship so that the packaging it stays in mint condition. We will charge a restocking fee for any damaged packaging. 
Ship returns to Barra Airguns via UPS, FedEx or USPS Priority Mail for tracking/confirmation purposes. Use this address: Barra Airguns. 11427 N Highway 59, Gravette, AR 72736
Returns without the complete original packaging may not be accepted. 
Shipping and handling is non-refundable except in the case of defective merchandise shipped within the United States. Shipping for returned merchandise should be pre-paid. 
Please allow 2-4 weeks from the date we receive the return for credit or refund. We assume no liability for loss or damage of returned packages. We recommend you purchase insurance from your shipper. Returning merchandise nullifies your ability to take advantage of any promotions or rebates that may be associated with it.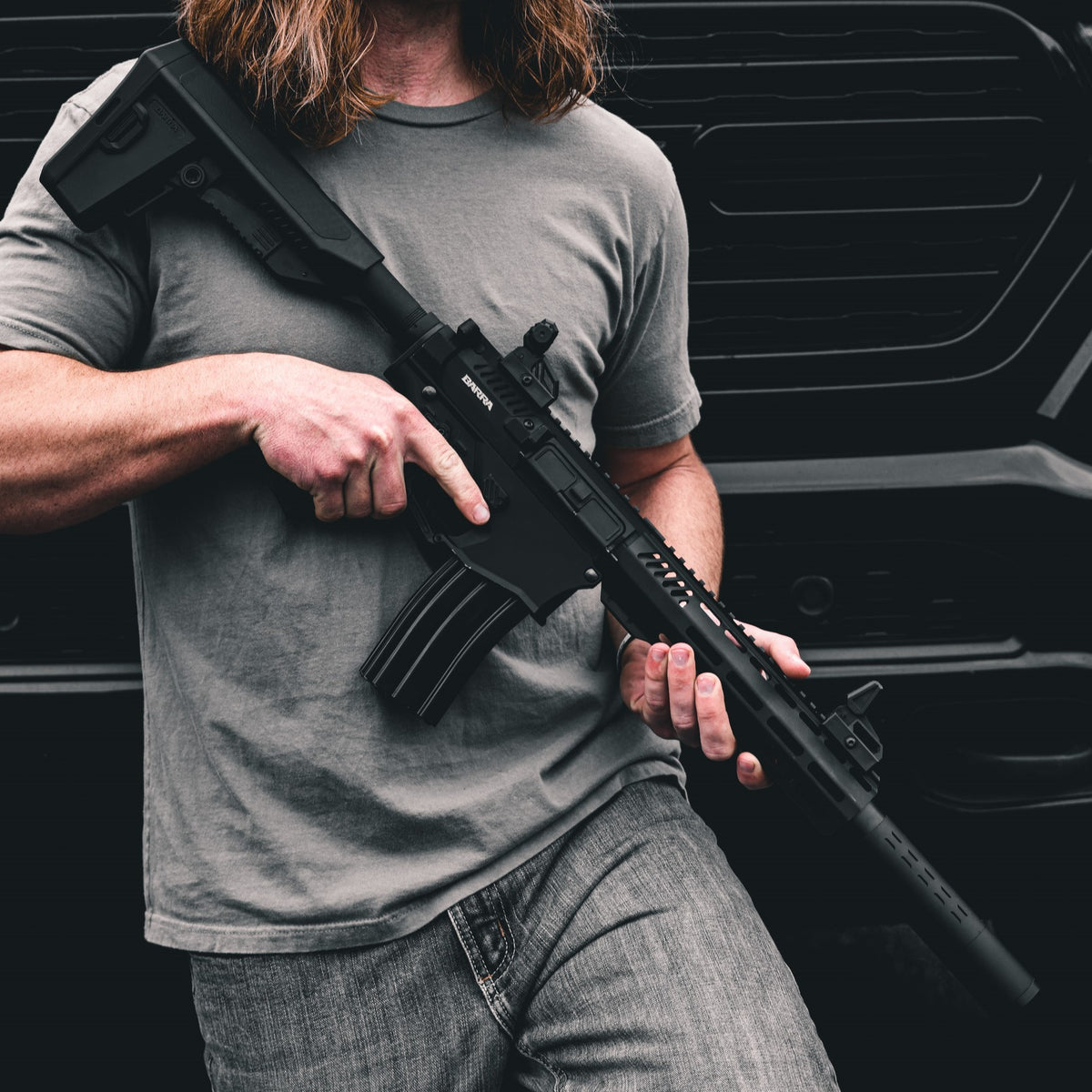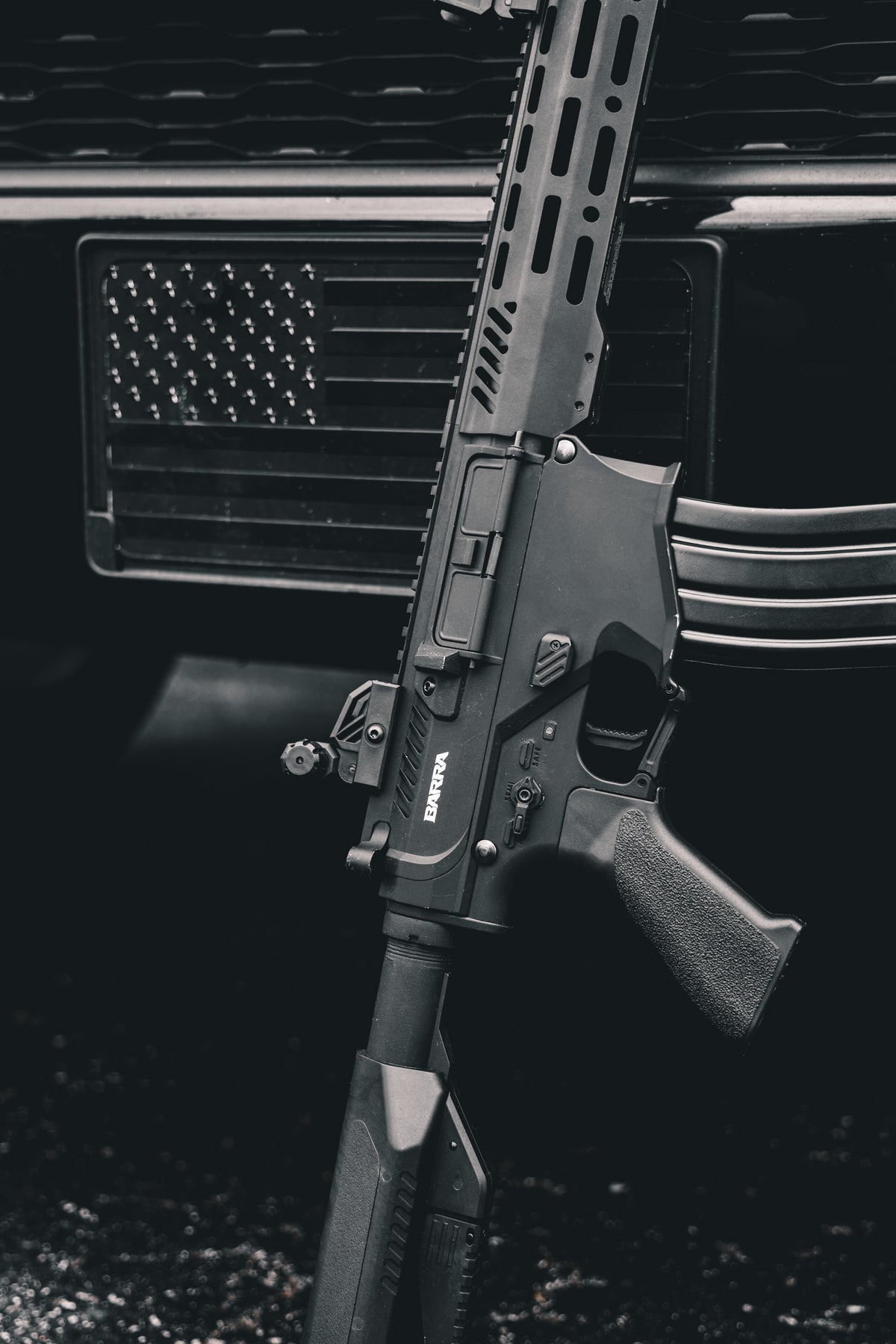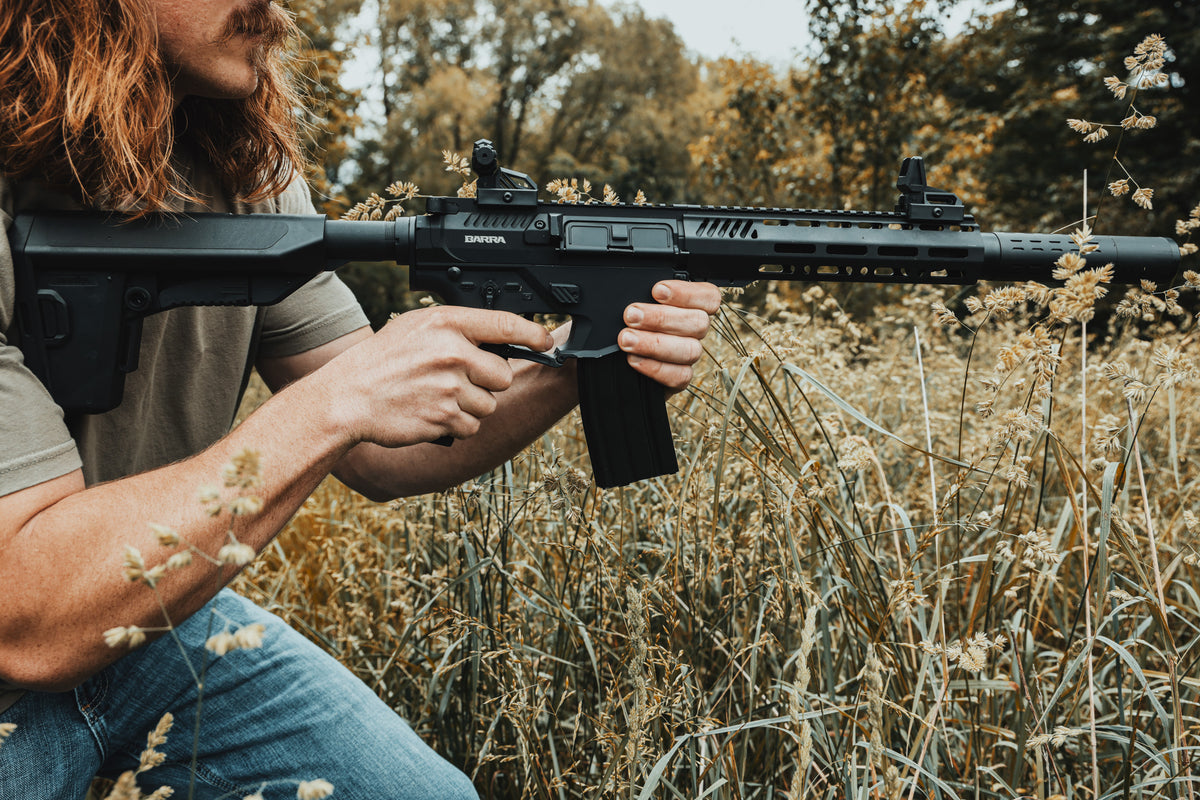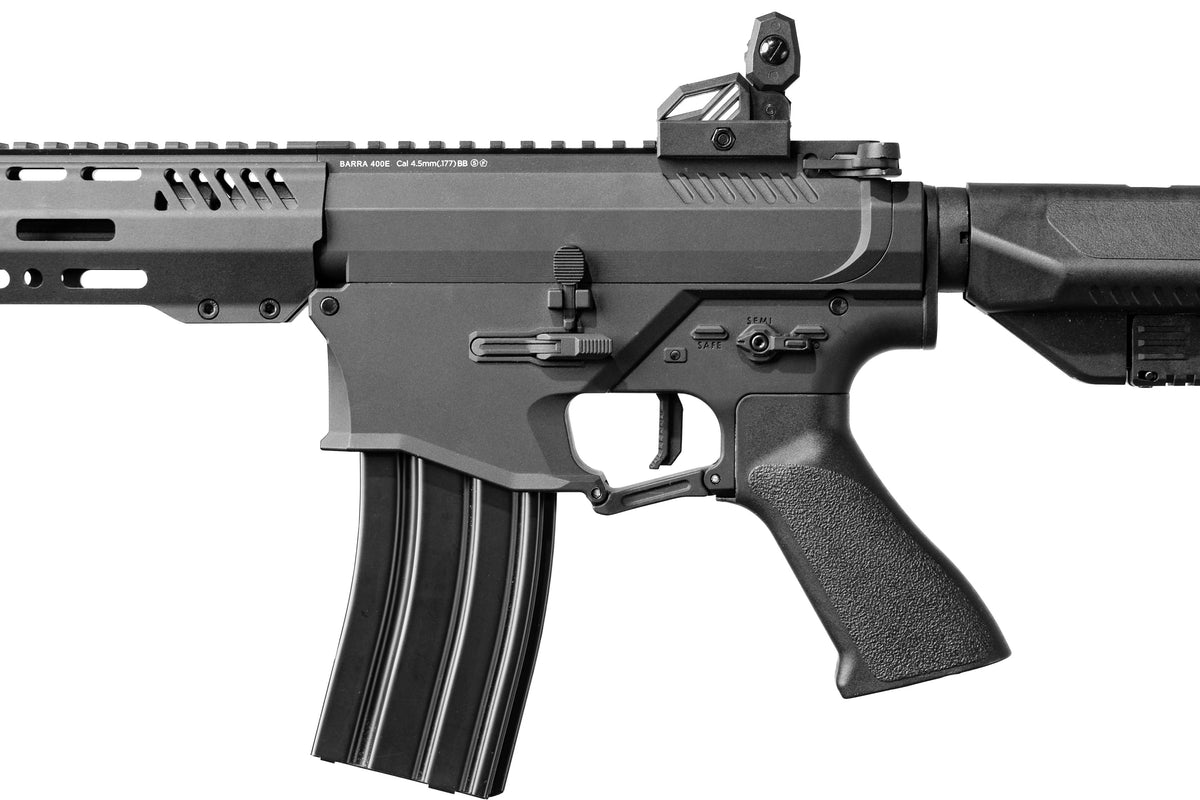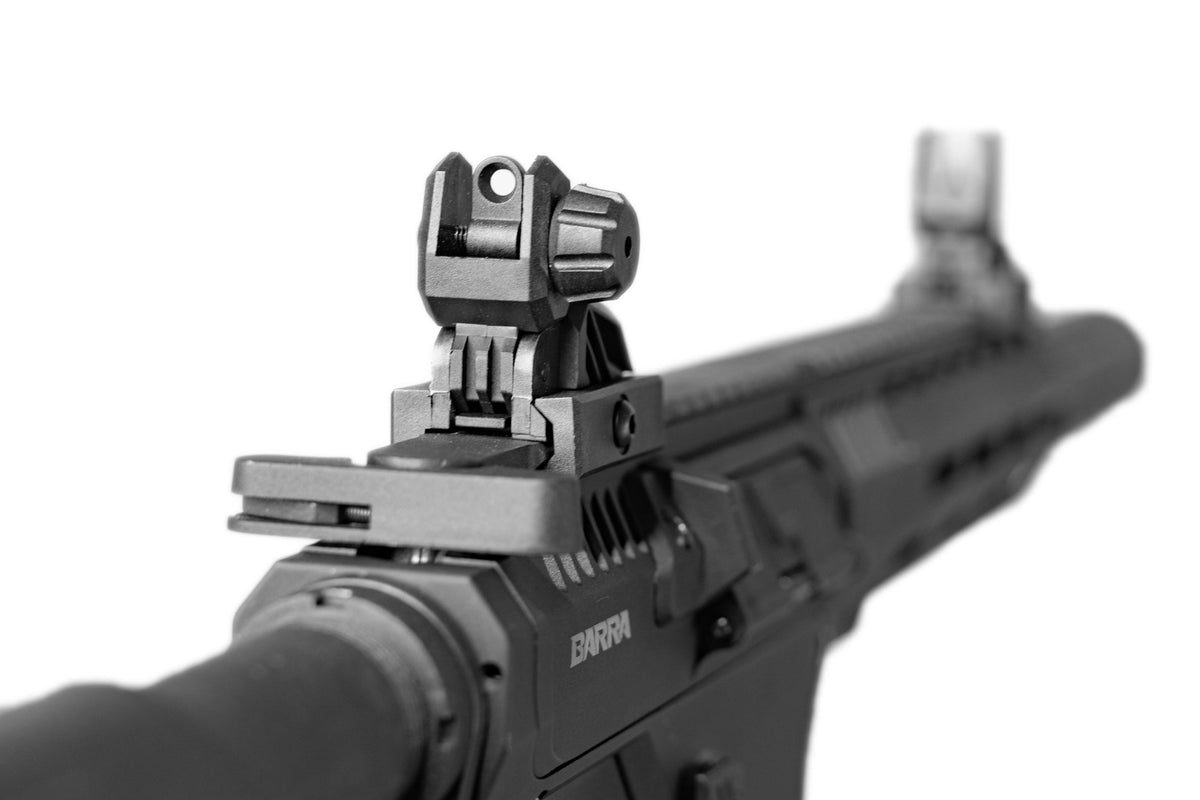 Barra 400e
Great gun! Could be a little stronger (fps), but for the price it's fun. Definitely recommend it!
Great
All my life I've wanted a repeating air rifle this one's great, I'm ,,85
Shooting this gun just made me smile. It's nice.
Everything is what it should be. This gun is fun.
AMAZING!! Go ahead and treat yourself!
This BB gun is beyond fun. If you're wanting to have some great time's like you were a kid again, with your kids!! Buy this gun already! I have been waiting for something like this to come to market, a battery powered BB gun and here we are. Everything they say about this is so true, hours and hours of endless fun. Add a few extra clips and a couple batteries and let the gun begin. Super simple, very easy to use and endless fun for you and your family. Great starter gun to train your kids how to shoot safely, and practice gun safety with them. Like I said hours of endless air tank/CO2/pump free, long reliable good hassle free fun!! Treat yourself and your family, you won't regret it!!
Fantastic!!
The 400e exceeded my expectations with quality and overall performance. 3000 bbs in and its flawless. Accuracy and function are perfect. I put a cheap amazon reflex sight on it and I can still put 1 inch groups on paper at 20 yards. The biggest complaint people had was with the speed loader. I have had no issues with it because prior to filling the loader to the 200 bb mark I give it a quick squirt of PB blaster silicone lube (one big spray can at walmart costs like 3 bucks.) A quick shake of the speedloader with the mag attatched keeps the silicone treated bbs flowing. I also purchased 2 more mags, battery, and charger from barra. Everything fuctions great. Semi or full auto no problems no issues. The weight and feel of this gun is what really throws people off. Even the most staunchest critics I have had shoot it can not help but smile when they dump a mag in full auto on a soda cans. If your on the fence about getting one, take the plunge its a blast!!