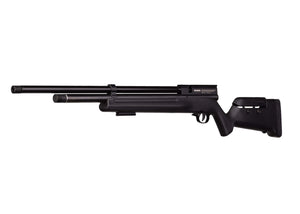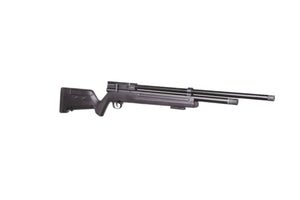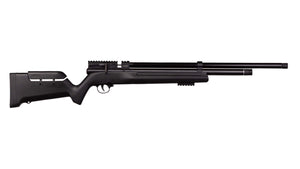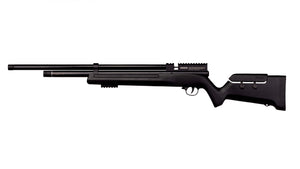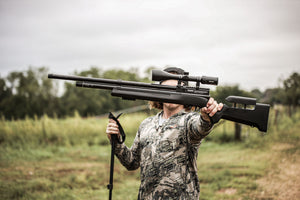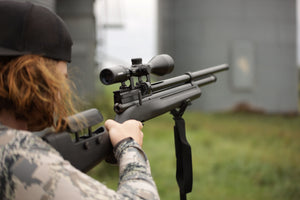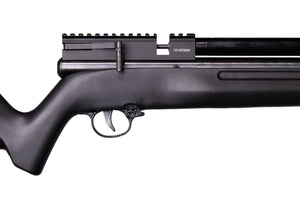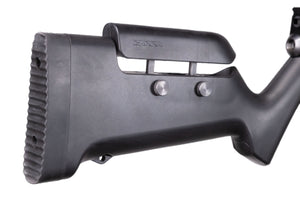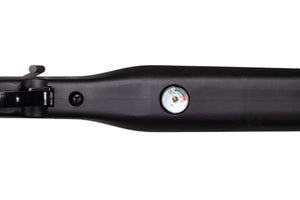 The 1100z (.22 Black)
Pellet Rifle
Color: .22 black
The hard hitting and highly accurate Barra 1100z is the perfect PCP rifle for hunting small game or ripping off long shot strings in the back yard. Pick yours up today and experience it for yourself. 
Description
The Barra 1100z is our first Pre-Charged Pneumatic, meticulously built with the serious shooter in mind. Being built with premium components, it offers high performance and accuracy right out of the box. The 1100z is packed with features that make customization easy. It is backed by a 1-year warranty and replacement parts are readily available to keep you shooting for years to come.
OPERATION The 1100z is an unregulated PCP with a max fill pressure of 3000 PSI via the standard Foster quick disconnect. The hammer spring is adjustable so you can easily adjust the power, noise, and shot count to suit your needs. With heavier pellets, the 1100z can produce muzzle energy exceeding 24 FPE (36 FPE in .22). The trigger is adjustable and has a manual safety.
TESTING Performed with the following pellets:
14.30 gr pellets  |  975 FPS  |  30 FPE  |  18.52 gr pellets  |  925 FPS  | 35 FPE
MATERIALS We crafted the 1100z with premium materials for reliability and performance. The breech and scope rail are machined from a single block of metal for maximum durability and accuracy. The solid steel side lever and handle make for extremely light cocking effort and rapid reloading. The bolt is smooth and seals in the breech, lacking the troublesome dual O-ring setup found in many air rifles.
The rifled barrel has an aluminum air stripper that attaches with ½-20 threads, keeping it perfectly centered in the shroud. The shroud also features ½-20 threads under a knurled thread protector for additional noise suppression. The shroud is locked in place and aligned with the action with a barrel band that screws into the stock instead of just clamping around the air tube.
The reinforced polymer stock features ambidextrous comb height adjustment so you can get perfect alignment with your scope. The rubber butt-pad shoulders well and avoids slipping. The foregrip swells for easy carrying and bags well too. The stock has a rear sling attachment point and has a front picatinny rail for accessory mounting.
STYLE  The 1100z wasn't just engineered for performance. We redesigned and 3D printed the stock many times until we reached the best-looking design that met the needs of field hunters and bench shooters alike.
ACCESSORIES Includes 2x 10 shot rotary magazines, 2x single shot trays, hex keys for tuning and maintenance, degassing rod, and a spare breech O-ring.
Specifications
| | |
| --- | --- |
| CALIBER | .22 (5.5mm) |
| POWERPLANT | Pre-charged pnuematic |
| AIR CAPACITY | 150cc (3000 PSI) |
| ACTION | Repeater |
| LOUDNESS | Level 3 |
| MUZZLE ENERGY | 36 ft/lbs |
| MAX VELOCITY | 1000 fps |
| SHOT CAPACITY | 2x 10 shot rotary magazine & 2x Single shot tray |
| WEIGHT | 7.5 Lbs |
| BARREL LENGTH | 19" |
| TOTAL LENGTH | 42.25" |
| STOCK | Synthetic |
| BARREL | Rifled |
| SHROUDED | Yes |
| TRIGGER | Adjustable |
| SAFETY | Manual |
| OPTIC MOUNT | Picatinny Rail |
| RECOMMENDED USE | Hunting/Target shooting |
| INCLUDES | Degassing screw |
| STOCK FOREGRIP | Mounted Picatinny Rail |
| SOUND SUPPRESSION | Fully Shrouded Barrel |
Shipping & Returns
SHIPPING POLICY (READ FULL SHIPPING POLICY HERE)
FREE ground shipping on any order $50 and up shipped to the contiguous United States.
Barra Airguns ships only to consumers that reside in the United States with a physical address (no PO boxes).  Please email help@barraairguns.com for inquiries about international shipping. 
In-stock merchandise will normally arrive in 3-6 business days (AK & HI add 7 days). Holidays may delay shipping. Shipping charges depend on destination and item weight.
It is your responsibility to know the laws in your state, county, and city and to fully comply with them.   Barra Airguns does not authorize that you may legally purchase, possess, carry or utilize air rifles, air pistols, pellets, or any other items, which you may order from Barra Airguns or one of its websites. 
RETURN POLICY (READ FULL RETURN POLICY HERE) 
If you are not satisfied with the original condition and/or performance of the item(s) purchased from a website of Barra Airguns you may return the item within 30 days from ship date for a refund or replacement. To qualify for refund or replacement, items must be returned in their original packaging with all tags and stickers attached. Once we approve your request, return unused items, in the original box with all accessories, warranty cards, owner's manuals, etc. within 30 days for an exchange or refund. You will need to put your boxed item in a separate box to ship so that the packaging it stays in mint condition. We will charge a restocking fee for any damaged packaging. 
Ship returns to Barra Airguns via UPS, FedEx or USPS Priority Mail for tracking/confirmation purposes. Use this address: Barra Airguns. 650 US-412 Siloam Springs, AR 72761
Returns without the complete original packaging may not be accepted. 
Shipping and handling is non-refundable except in the case of defective merchandise shipped within the United States. Shipping for returned merchandise should be pre-paid. 
Please allow 2-4 weeks from the date we receive the return for credit or refund. We assume no liability for loss or damage of returned packages. We recommend you purchase insurance from your shipper. Returning merchandise nullifies your ability to take advantage of any promotions or rebates that may be associated with it.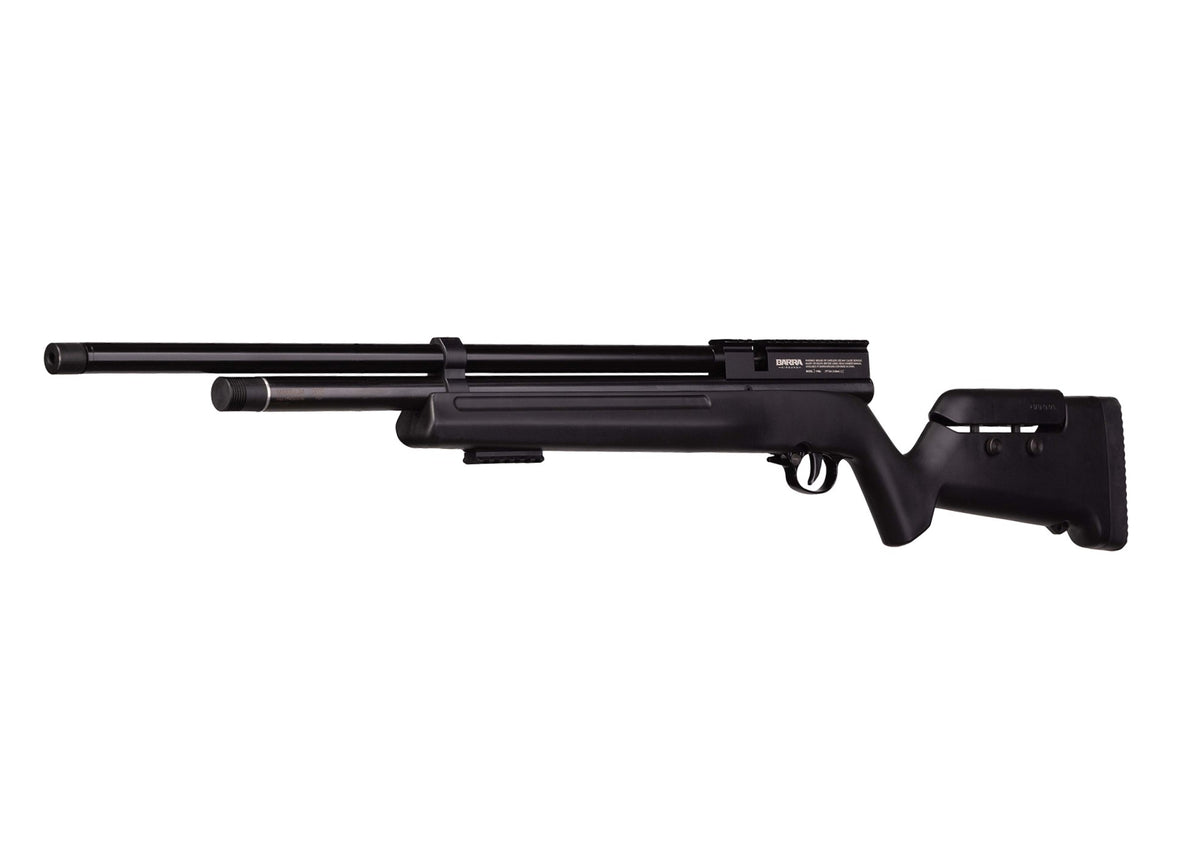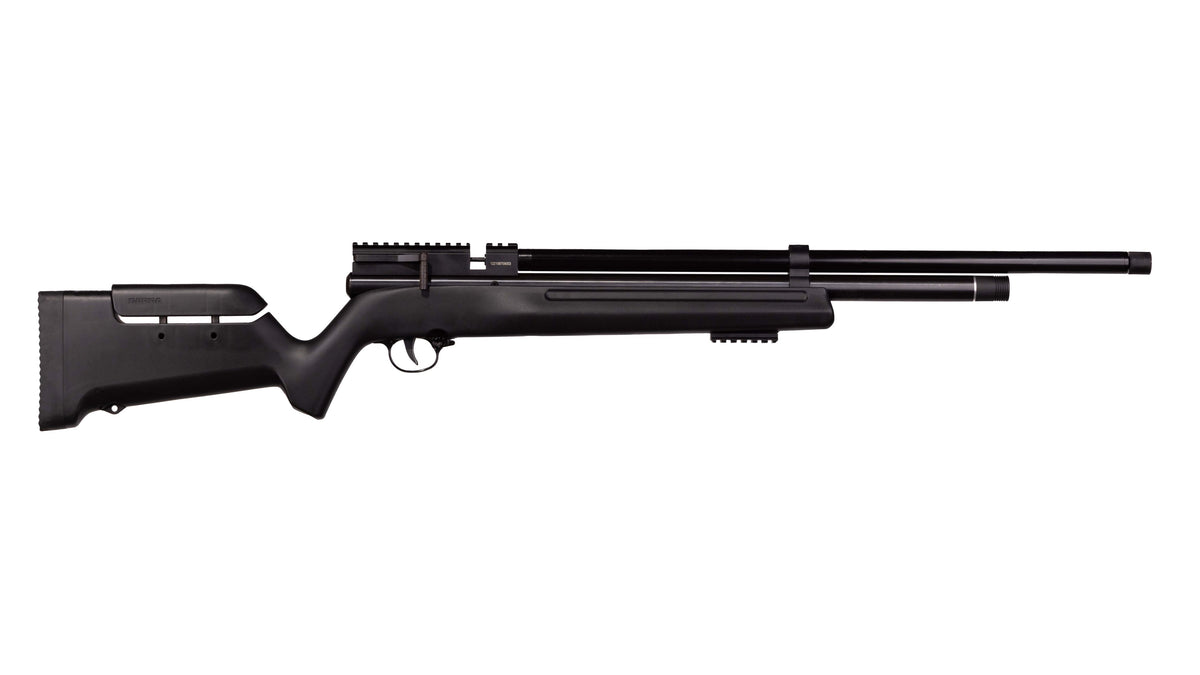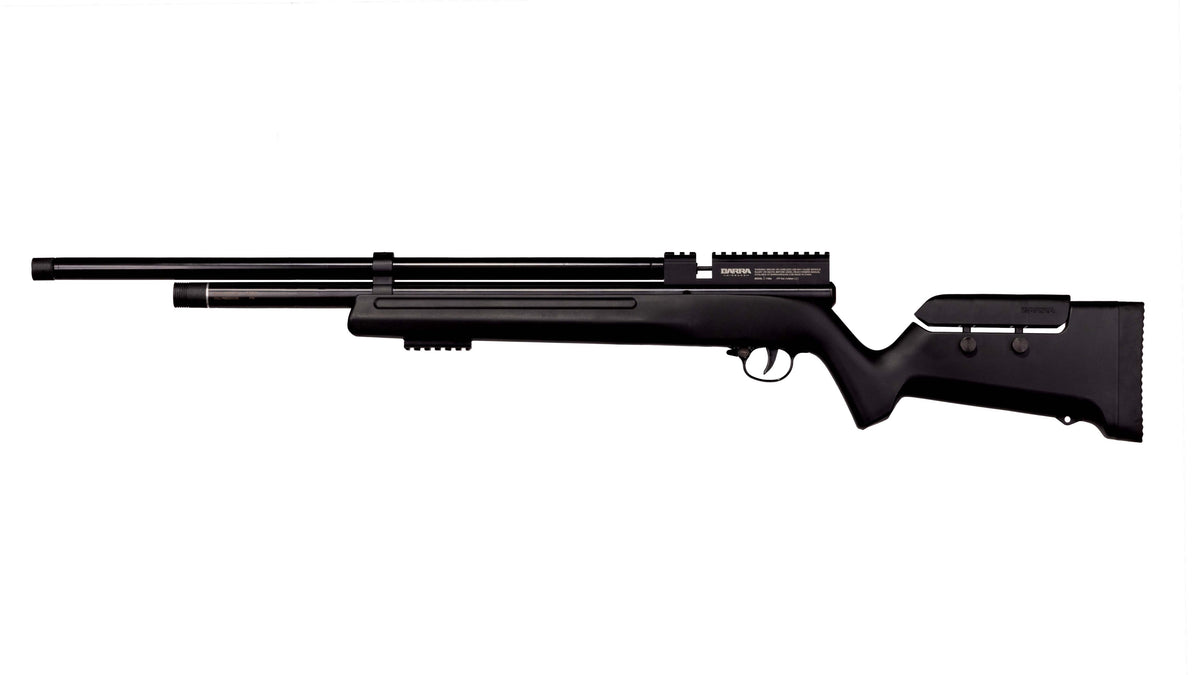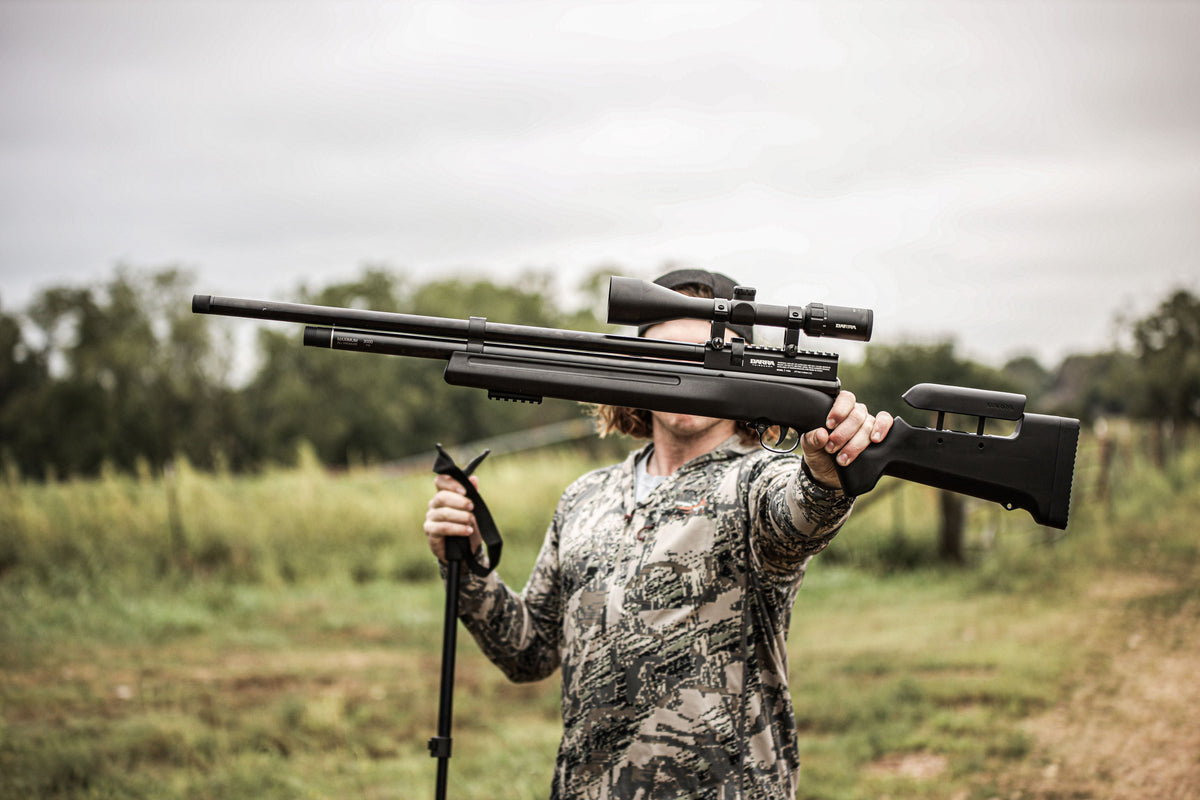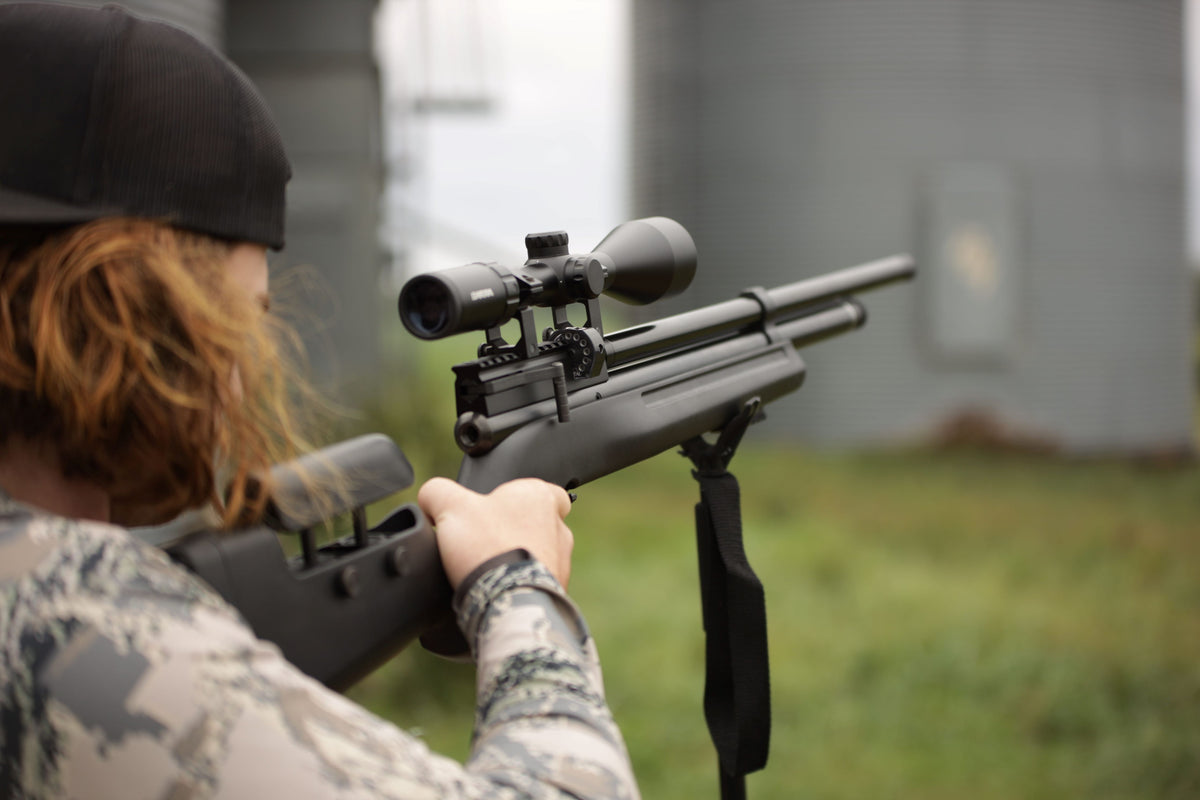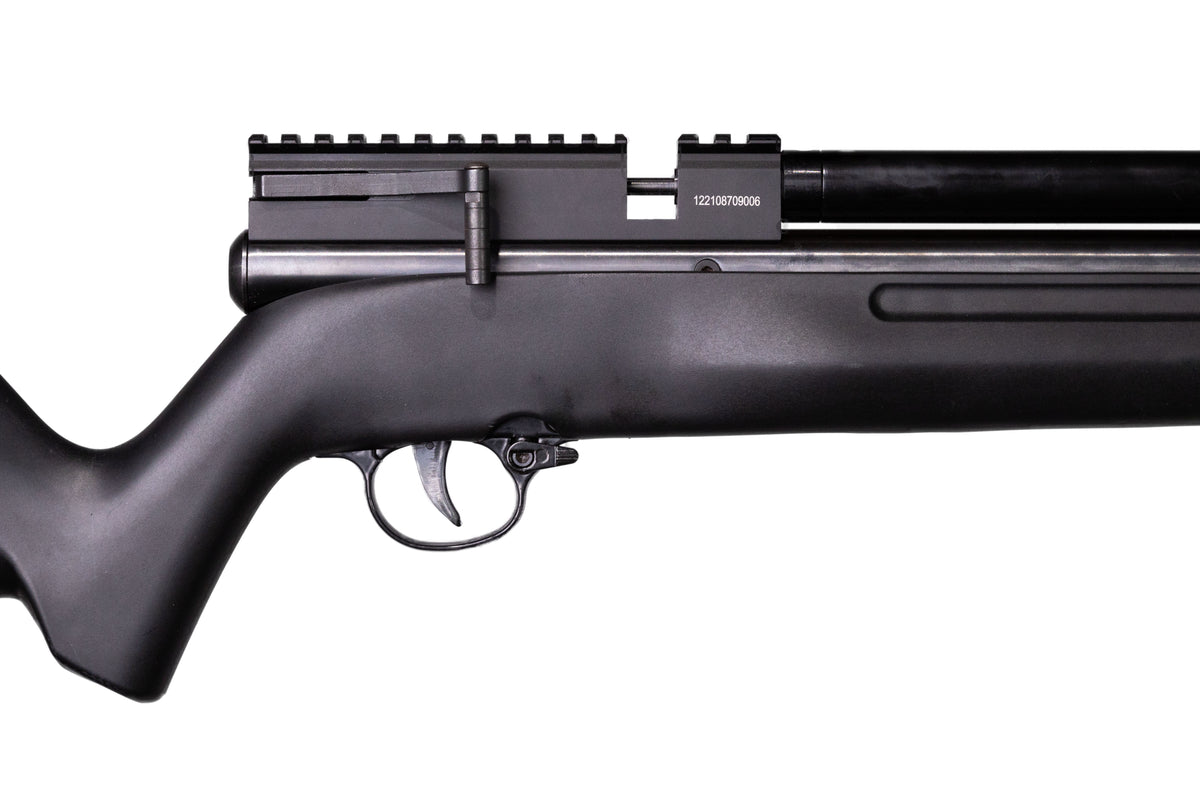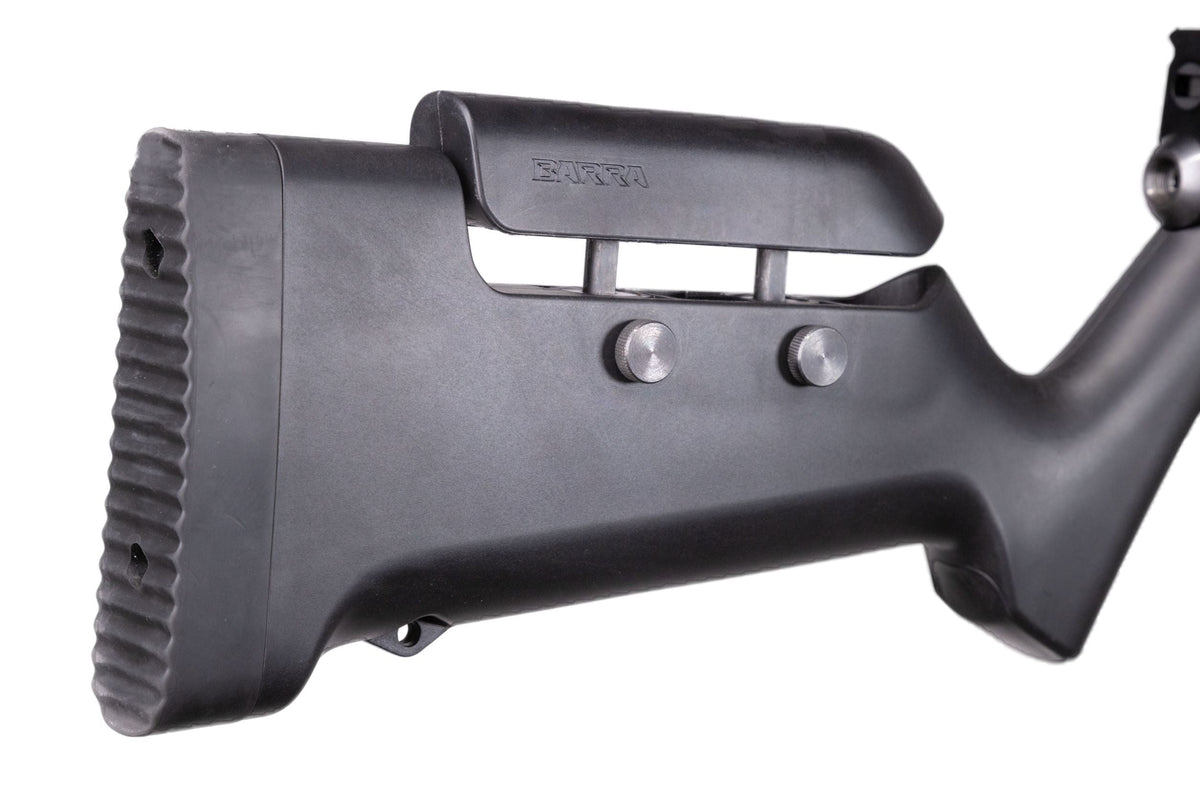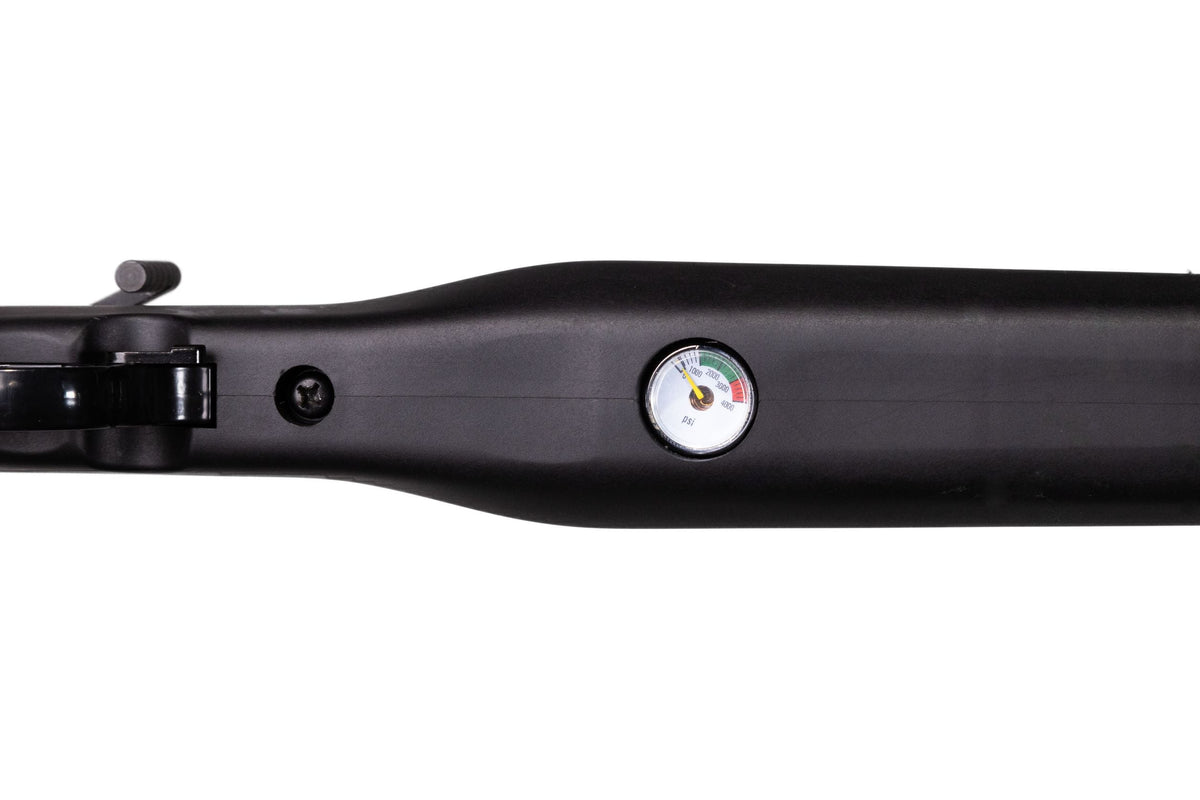 Big boy toy
As of now still reading how to use properly. This is a beautiful piece I will add to my collection. Very well made and has some weight. Just love it.
Can't wait to use this. Thank you, Very happy customer
Beyond my expectation.
I have a total of ten air guns. For less than $300. The 1100-Z is among the most accurate at my normal shooting distance. Upon receiving the 1100-Z in .22 cal. I mounted a 3X9 Bug Buster compact scope and was within an inch of bullseye at 20 yards with the first shot. It was probably by luck, but I had the 1100-Z zeroed with the third shot. So far, I am very happy with my purchase.
Tack Driver
Third PCP and my new favorite, Magazines are straight forward and simple to load, side lever cocking mechanism adjustable power and trigger. After power adjustment and sighting in 4-16x40 Bushnell Banner 2 scope at 40 yds. This air rifle is shooting Nickel and Dime size 5 slug groups, with H&N (.22 cal) .217 23grn slugs at 40 yds. Small game beware. All in all a sweet deal on an air rifle.
Awesome Budget PCP air rifle
This is a very high-quality PCP air rifle at a budget price. I hand pump my pcp.s and it is a very easy pcp to hand pump. When i got to buy another pcp this is the first company i am going to look,
Great gun
This is my second PCP rifle and this one is far and away way the better gun. This gun is accurate with about any pellet I have used, I would recommend it to anyone looking for a great PCP rifle